I have an exciting announcement!
I'm super pleased to announce that the release date for my next album 'Then Up' is APRIL 21ST! It will be available in all good places and decent locations, like iTunes, Amazon, and the bench in the park where you found that Boyzone CD…
AND…
I will be touring the album in May!! Here's the dates, venues and ticket links for where you'll find me:
16th May – Exeter: The Phoenix – http://www.exeterphoenix.org.uk/category/buy-tickets/
(Note: ticket link will be updated soon)
18th May – Manchester: The Castle http://glasswerk.co.uk/…/Lisbee+Stainton-Castle+Hotel,+Man…/
19th May – York: The Basement http://www.ticketweb.co.uk/e…/lisbee-stainton-tickets/264865
20th May – Stockton-on-Tees: The Arc Arts Centre http://arconline.co.uk/wh…/music-studio-folk/lisbee-stainton
21st May – Bristol: Folk House http://www.bristolticketshop.co.uk/eventdetails.aspx?e=14318
22nd May – Brighton: Komedia http://www.seetickets.com/…/lisbee-s…/komedia-studio/1058132
23rd May – London: The Slaughtered Lamb http://glasswerk.co.uk/…/Lisbee+Stainton-Slaughtered+Lamb,…/
30th May – Worcester: Marrs Bar
http://www.marrsbar.co.uk/events/lisbee-stainton/
31st May – Sheffield: Greystones https://www.wegottickets.com/event/388211
It would be excellent to see you at a show! They'll be primarily solo headline shows with a few duo shows thrown in for good measure with marvellous guitar man, Jack Rutter. The dates that will be solo/duo are to be confirmed soon, but they'll ALL be ridiculously fun, regardless. 
🙂
I can't wait to get on the road and see you all. Get your tickets and come along!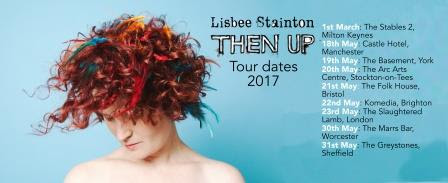 I'll also be playing somewhat of a 'pre-tour' solo headline show at The Stables (Stage 2) in Milton Keynes on March 1st – get your tickets here: http://purchase.tickets.com/buy/TicketPurchase?agency=STABLES&organ_val=22492&schedule=list&event_val=25AF